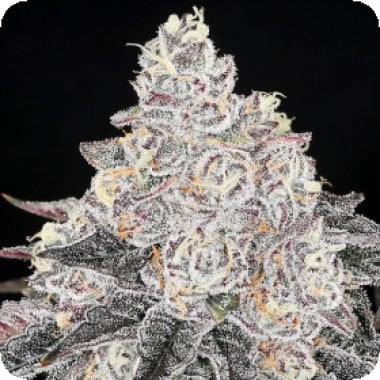 Frozen Black Cherry Feminised Seeds
Introducing Anesia Seeds' new Frozen Black Cherry, a highly potent strain with a frosty appearance. This adaptable strain thrives under different growing conditions and techniques, delivering heavy yields of resin-soaked buds in just 8-9 weeks. It boasts a terpene profile with addictive aromas of fresh wild berries and juicy cherries. The buds are covered in a thick layer of resin, giving them a frozen and sparkling appearance. Frozen Black Cherry is a cross between the popular Blackberry Moonrocks and Pacific Frost, resulting in an aroma of cherries, red berries, and grapes. With a THC level of up to 36%, it is one of the strongest strains available.
The buds of Frozen Black Cherry are rock hard, sticky, and produce a smooth smoke with a fruity and sweet taste. Its effects are powerful and psychedelic, with sensory distortions and a deep physical relaxation. It offers a multifaceted experience that can enhance certain activities. When grown indoors, the plants reach a medium height and require sufficient light. Excessive resin production occurs during flowering, resulting in high yields of up to 500g/m² indoors and 1000g/plant outdoors. Defoliating the plants and using a UVB lamp during the last 3 weeks of flowering can further enhance the yield and THC levels.
In addition to its potency, Frozen Black Cherry can also provide pain relief and help reduce stress.
Genetics:
Pacific Frost x Blackberry Moonrocks