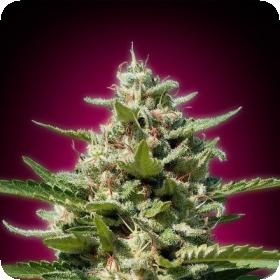 White Kush Feminised Seeds
What do you get when you cross two iconic dominant indica strains like White Widow and Kush? If you're Advanced Seeds, you get an absolutely amazing result and a plant that is small but super-productive with a powerful mostly-indica yet uniquely psychedelic effect.
The plants develop a limited number of leaves which allows all the goodness to channel into the huge number of buds these plants produce.
For their size, they deliver a lot of product with yields that average about 300 g per square metre. Experienced growers can push those numbers even higher, often into the 400 range but first-timers and novice growers will also see great results.
The aroma of White Kush is very pungent and the flavour is delicious. Anyone familiar with either parent strain already has a good idea of what to expect.
Those who have tried both will be amazed at how the best of both come together. The effect is typically indica and lasts a good long time.
The size of the plants makes them accommodating to growing anywhere indoors or out and using any growing method or substrate. Indoor growers will find these plants ideal for growing on shelves and in closets and they respond well to soil or hydro.
Their compact size also makes them ideal for growing in SOG and ScrOG setups. Indoor plants rarely grow taller than 3 feet. Outdoor heights can be double under optimal conditions.
These plants stand up well to a variety of climates and weather conditions but will need to be harvested before threat of frost. They finish early so this should not be an issue.
On average, harvesting can begin as early as mid-September although a couple extra weeks will enhance the quality of the end product.