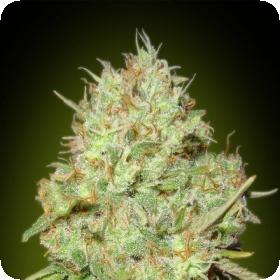 Shark Widow Feminised Seeds
Shark Widow is almost 100% indica and brings with it the advantage of a very short flower period. How short, you ask? How does under 60 days sound? Yes, it seems like it would be impossible but the proof is in the plant. One can almost literally sit and watch the grass grow with this one and the quality is top shelf.
The plants grow to a medium size with low branching and an abundance of huge, heavy buds. The resin production is also very impressive and whispers hints of all the good times that lie ahead. The flavour and aroma profiles along with the effect are powerful and intense.
Even though the smell is pleasant, it can also permeate a large area and smells like exactly what it is. It is therefore recommended that indoor growers employ good air filtration and ventilation practices and outdoor grower use discretion when dealing with inquisitive neighbours. Shark Widow will not go unnoticed, especially if one is growing several plants in a small space.
The flavour and aroma when lit intensify and become very sweet with notes of earth and incense. The effect is all indica so call it a true stoner's strain: no hint of sativa anywhere, just a powerful, long-lasting couch-locking stone. THC content is high on average.
The plants will grow to about 3 feet indoors but can grow twice as tall outdoors. They will produce the same amount of bud for their size whether grown indoors or out. Expect to harvest anywhere between 300 and 400 g per square metre indoors or out.
The super-fast flower time lets growers begin harvesting outdoor plants as early as the middle or end of September, depending on when they were planted. Harvest can continue well into October in most areas in the Northern hemisphere.