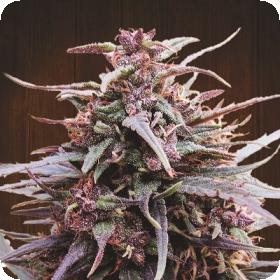 Snow Moon Feminised Seeds
Snow Moon is a cross between two of Ace Seed's favourite Hash plants. The ever popular Pakistan Chitral Kush and China Yunnan, a powerful Indica from the famous Orient Express cannabis strain.
There are two distinct phenotypes when it comes to Snow Moon. One is the 'white' pheno which lets the China Yunnan dominate and has all the trains of a classic 90s White strain.
The second is a much more Pakistani 'blackberry' with some gorgeous red and purple hues along side a sticky, berry smelling resin. The effect is snuggly, warm and comfy, ideal for relaxing of an evening in front of the telly.
Both of these phenotypes are extremely resistant to beasties, diseases and variations in temperature making them perfect for outside growing. Indoors the plants will be a little shorter but will be ready to harvest sooner than the tall outdoor plants.
Snow Moon can be purchased in its regular form and its feminised form, these seeds are feminised. Feminised seeds will only grow into female plants which is fantastic for growers everywhere.
Growers tend to have no use for the male plants who simply have to be removed from the crop and completely go to waste. This uses up precious time and money that could better be used on the female plants.
They can also be used by experienced breeders to create their very own feminised seeds. This is far more tricky than regular breeding and should be left to the experts out there.
The average flowering time is 42 - 63 days and, if grown outdoors, this plant should be harvested towards the end of September or in early October.
Keep in mind that the cultivation of cannabis is illegal in several countries. Please check the laws of your country before attempting to grow cannabis seeds.
 
Genetics:
Purple Pakistan Chitral Kush 2002 x Orient Express (China Yunnan hashplant pheno).