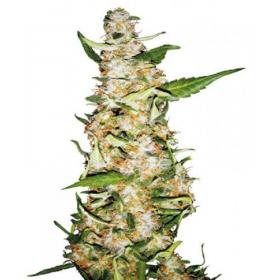 Skunk #1 AUTO Feminised Seeds
Skunk #1 has been a favourite in the marijuana community for many years and now Sensi Seeds has released an auto-flowering, feminised version. Skunk #1 was one of the very first officially established Indica-Sativa cross-breeds and has been on the market for over 3 decades.
The strain has a number of descendants as it has been used as a base for many popular marijuana strains and is said to have had more of an effect on cannabis culture than any other strain.
According to Sensi Skunk#1 has been their "most popular and widely used form of that strain" making it the very best of this already amazing hybrid.
Skunk has been known to be a little trickier to grow and so Sensi has altered it just a little in order to make it significantly more user-friendly.
As stated previously this strain is auto-flowering and feminised making it far easier to grow than in its regular form. Auto-flowering plants have always been extremely popular for a number of reasons, firstly their superior growing time.
These seeds will begin to flower less than a month after the first seedlings sprout. After this the process is extremely fast simply because of the auto-flowering alteration.
Auto-flowering means that instead of relying on a complex light cycle to bloom, these plants flower automatically at a certain time in their life cycle making the entire process considerably faster.
One of the other primary reasons behind its popularity is its versatility, Skunk #1 will thrive outdoors in the warmer months, or under lights indoors. The ability to time the germination of the seeds is perfect for growers who experience short summers yet wish to grow outdoors.
The feminised aspect of the strain means that they will only grow into female plants. Many modern growers have absolutely no need for male plants and thus simply remove them at the beginning of the growing process, this is however a lot of hassle.
The use of feminised seeds ensures that this issue becomes a thing of the past. The other large positive of feminised seeds is the money saving aspect, using regular seeds a grower would have to purchase twice as many seeds as desired females in order to account for the male section of the crop.
Skunk #1, if grown outdoors, thrives in a continental or temperate environment where it can get plenty of light and warmth. The strain is excellently balanced at 35% Indica and 65% Sativa, it is compact which renders it excellent for those who are short of space and gives a medium yield.
The flowering period is just 45 - 55 days.
Please remember that the growing of cannabis plants and the cultivation of seeds is illegal in some countries - please check the laws of your country and don't be growing any plants if it is against your country's laws