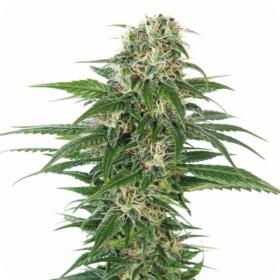 Early Skunk AUTO Feminised Seeds
Early Skunk Auto Feminised is the next step after the incredibly popular Early Skunk. This strain is a vigorous grower that is resistant to pests and fungal attacks. These buds are large and round with tonnes of resin.
This strain has a musky aroma with a hint of sweetness, nothing too strong. The flavour is spicy and pleasant, thanks to the Early Pearl genes pleasant in the strain. The effect is warm and comfortable with a tiny little up to it.
This strain is great for relaxing of an afternoon, maybe doing some crafts or reading a good book. It is also perfect for medicinal users. 
This strain is both auto-flowering and feminised. Auto-flowering strains will flower at a certain point in their life, rather than as a response to a light cycle. This makes the flowering time shorter as well as the stature of the plants.
Even though the plants are small they will still produce an impressive yield. This makes them great for indoor growing and commercial growing. Feminised seeds will only grow into female plants.
This makes them ideal for growers who don't plan on breeding their own crops. For these growers the male plants are a pain as well as a waste of time and money. Feminised plants also tend to be higher in quality and uniformity than regular plants. 
This strain has a flowering time of 40 – 50 days and can be grown indoors or outdoors. 
Remember that the cultivation of cannabis seeds is illegal in some countries, please check the laws of your country before attempting to cultivate cannabis seeds.
Genetics:
Early Skunk (Skunk #1 x Early Pearl) x Ruderalis