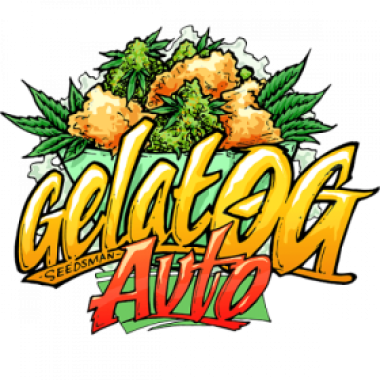 Gelat.OG Auto Feminised Seeds
Gelat.OG Auto was created by combining Gelato, a Platinum pheno of Girl Scout Cookies and Sunset Sherbet, with an OG Kush Auto male plant. The Gelato contributes a lot of THC and a delicious, dessert-like smell, whereas the Auto OG contributes auto-flowering genetics and a smaller size.
Gelat.OG Indoors, with 18 hours of light every day, auto grows quite well.
It will achieve maturity in around 80 days from seed, even if grown outdoors or in a greenhouse climate in the middle of summer.
Buds will begin to form by the end of the third week.
This plant has a compact structure, remains somewhat squat, and has a huge central cola with limited lateral branching.
Its buds are tight and firm, with orange pistils and are pouring with resin. Some plants may produce purple hues.
On the nose, it smells like mint, cookies, and wood, and on the palate, it has sweet citrus flavours with earthy undertones.
THC production is exceptionally high, and its effect provides a strong sense of pleasure that evolves into incredibly physically relaxing experiences.
Genetics:
Gelato (Sunset Sherbet x Platinum GSC) x OG Kush Auto