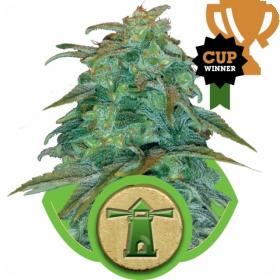 Royal Haze Automatic Feminised Seeds
Royal Queen Seeds Haze Automatic Feminised seeds provides the quintessential haze style of the coffee shops of Amsterdam without the problems which growing a haze strain bring.
It is an Amnesia Haze, Skunk, and Ruderalis crossover resulting in a high THC content and a break down of 50% Sativa, 20% Indica, and 30% Ruderalis.
Royal Haze grows to a height of around 60 to 100 cm, this coupled with its quick flowering quality means that it can grow where other strains would struggle to produce an indoor yield of 80 to 100 g per plant dried and an outdoor yield of 130 to 180 g per plant dried and are ready to harvest in just 10-12 weeks.
Haze strains are notoriously difficult to grow, however the fact that Royal Haze seeds are automatic and feminised means that a grower does not have to face these challenges.
Automatic means that the seeds will flower automatically after a certain time, perfect for the more novice growers and feminised means that there is a 99.99% chance that the seeds will be female.
This is useful because in regular seeds there is a 50/50 split between males and females, although this can sometimes waver in favour of the females, but the males are not necessary for cultivation.
This means that with regular seeds a grower needs to buy twice the number of seeds, and therefore spend twice the amount of money, to ensure the right number of females.
The males only purpose is to waste time, and space which would otherwise be better spent on the females. The only way the males can be useful is if a grower is looking to breed their own crop.
Even if this is the case it is possible, for the more experienced growers, to manipulate the females into producing the pollen necessary for reproduction.
If this is achieved the future crop will be more genetically pure than if both males and females had been used, however the trickiness of this venture should not be underestimated.
Genetics:
(Amnesia Haze x Skunk) x autoflowering strains