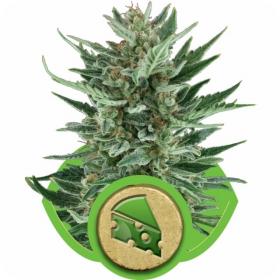 Royal Cheese Automatic Feminised Seeds
Royal Cheese is one of the most popular of Royal Queen Seeds strains and is set to become even more coveted due to the fact it is now automatic and feminised. Royal Cheese is unique because of its aroma of, unsurprisingly, cheese.
Genetically it is a combination of Old School Skunk and Afghani resulting in an Indica dominant that it will not grow over 1 m in height. As well as this the fact that its automatic means that it is rather versatile and will grow in a variety of conditions.
Usually it takes around 8 weeks to flower, although some growers prefer to wait 10 weeks for potency reasons. On average, it will produce a yield an average of 160gr per plant dried.
The reason why Royal Cheese is so easy to grow is the fact that it is autoflowering which in a nutshell means that it will flower automatically after a certain period of time.
As well as this these seeds are feminised which means that chances are almost 100% of the seeds will be female, which as any grower knows, is extremely useful. Royal Queen Seeds also have a vast amount of experience with feminised seeds, so they are certainly a brand you can trust.
With regular seeds there will generally be a 50/50 split between males and females, which is problematic because the males really serve no purpose other than to produce the pollen for reproduction.
Consequently, a grower will need to buy twice the number of seeds as they need in order to ensure the correct amount of females and then waste time and space which would be better spent of the females.
This is of particular importance to indoor growers and those who do not have a great deal of experience. Even if a grower wanted to breed their own crop there is a way, although it is rather difficult, to induce the females into producing the pollen usually reserved by the males.
If this is achieved the next batch of seeds will even be of greater genetic purity because of it.