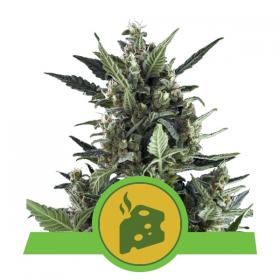 Blue Cheese Auto Feminised Seeds
Blue Cheese Automatic is a cross of two auto-flowering marijuana strains, Blueberry Automatic and Cheese Automatic, that is the result of five years of selective breeding. 
Claimed to be more than the sum of its constituent parts, the result here is plainly greater than the sum of its constituent parts.
It is the ideal auto plant for higher latitudes and temperate climates because it is ready to harvest in just 10 weeks from germination and will be mature before the weather becomes really bad. 
When nighttime temperatures dip close to harvest time, the aromatic buds turn a lovely blue colour. 
When planted outside in the ground or in a large pot, these plants grow to a maximum height of 110 cm. Indoor plants will grow to reach between 40 and 70 cm tall. When cultivated indoors under 600 watt grow lights, yields range from 325 to 375 gr/m2; outdoor growers can expect up to 110 gr/plant.
It is feasible to get two or even three harvests per year if planted in warmer areas, especially if plantings are staggered such that the following lot is started before the previous crop is ready to harvest. 
Even at higher latitudes, the crop will be safely harvested before frosts or severe rains arrive. 
The buds are quite dense and glisten with the resin produced by their trichomes; in fact, this is a useful strain for making hash or other extracts from.
Blue Cheese Automatic is a fragrant strain with the tang of soft, creamy cheese and a beautiful cherry fruitiness. 
Blue Cheese Automatic's old-school skunky flavour leads to a peaceful, serene, and uplifting high, making it an excellent choice for indoor or outdoor cultivation. 
THC levels are roughly 16%, with a modest CBD content, which helps to prevent an extremely heavy or couch-lock affect. 
It's also a smart choice in social situations because the effect fosters socialising rather than reflection.
Genetics:
Auto Blueberry x Auto Cheese