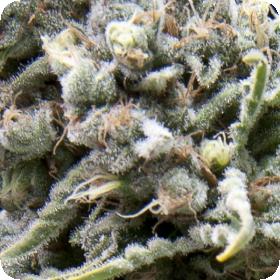 White Widow Auto Feminised Seeds
White Widow Auto is the auto-flowering variant of the world-famous strain, which has remained popular since the 1990s. 
It is highly adaptable to a wide range of growing material and procedures and produces well.
Pyramid Seeds' Auto White Widow is a multipurpose plant with a Christmas tree shape that thrives well indoors and outdoors. 
Plants can be grown inside with continuous light until flowering, at which point the lighting schedule should be changed to 18 - 20 hours per day. 
Plants grow to a height of 50-150 cm and produce up to 550 gr/m2 in around 50 days of flowering, for a total growing time of about 75 days. 
Outdoors, yields can reach 200 g/plant. Feeding this strain will require some caution; it does not tolerate either too much or too little in the form of nutrients. 
Aside from that, it is reasonably easy to cultivate and is resistant to mould infections and hot, sunny weather.
This is a smooth-smoking, sweet-tasting cannabis with a high THC content of 16% and 1.2 percent CBD. 
The effect is quite strong and long-lasting, and it is more physical than mental, yet its psycho-activity is nevertheless potent. 
It is reported to have a wide range of medicinal applications.