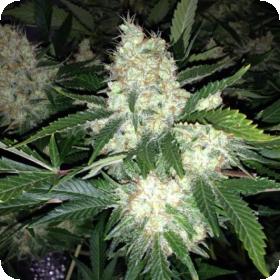 AK27 Express AUTO Feminised Seeds
AK27 Express Auto is an incredible strain that comes from a long line of amazing plants. AK genetics have been a huge part of cannabis breeding since the mid 90s.
It is beautifully balanced, combining sativa and indica in a way that makes it a truly phenomenal plant. This strain can be grown in a lot of different ways and responds especially well to Sea of Green and Screen of Green.
It is a good idea to leave these plants for as long as possible before harvesting them. The flowers can be a little slow coming in but when they bloom they do so spectacularly.
This strain is both auto-flowering and feminised, ideal for growers. Auto-flowering plants will flower at a certain point in their lives rather than as the result of a light cycle.
This shortens the flowering time of the plant as well as the overall stature. Despite their diminutive size these plants will still produce amazing yields. This makes them perfect for indoor and commercial growing.
Feminised seeds will only grow into female plants, meaning growers no longer have to deal with the male plants. The males take up half of a regular crop and need to be removed before they can damage the females.
This is a huge waste of time and money that would be much better spent on the females.
This strain has a flowering time of 7 weeks and can be grown indoors, outdoors or in a greenhouse.
Genetics:
Original AK47 x Fast Flowering Ruderalis