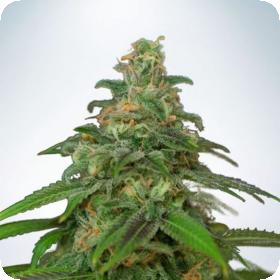 Mandarin Haze Auto Feminised Seeds
Auto Mandarin Haze is a 65% sativa automatic marijuana strain that takes advantage of the greatest Haze genetics. The richest and most beautiful mandarin fragrances are developed when it is cultivated on soil and then thoroughly cured.
Auto Mandarin Haze can be grown both indoors and out, and it has a short blooming time for a primarily sativa plant, requiring only 7 weeks to complete. Yields are also rather impressive for such a high; indoor farmers may expect up to 100 grammes per plant, while outdoor growers should be able to quadruple that. It has a refreshing effect on the mind since it reaches sections of the brain that others do not. THC production is high, with a 19 percent THC content.
This is the strain for you if you're looking for a burst of new energy. On top of the haze undertones, Ministry of Cannabis have chosen the best Haze to give you a powerful, uplifting experience with a light tangerine aroma. This strain is unexpectedly pleasant for the mind; it grows well on hydro, but only when properly grown in soil and meticulously cured after harvest does it reveal the full richness of its fruity hazy aroma. For a sativa strain, the flowering time is extremely short.