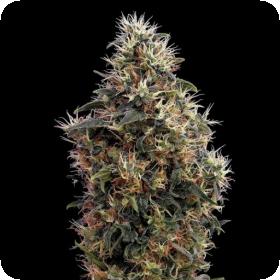 Sweet Mango AUTO Feminised Seeds
One of the newer strains in their catalogue, Greenhouse Seeds is pleased to offer this expert cross between Mango and Big Bang Auto-flowering.
The mingling of sour and fruity flavours with a curiously matched aroma with a long-lasting, powerful stone makes these seeds a great choice for any grower looking for a unique experience.
The inclusion of Big Bang genetics also make it a true mass-producer making it doubly attractive, especially as a commercial strain.
The plants are extremely strong and hardy. They have a sturdy central stem with long lateral branches just bursting with delicious buds.
The flower extremely fast as well. Most plants finish completely in just seven short weeks and produce wonderfully resin-rich buds that even cure quickly (about 10 days or so).
The tallest plants are just around 3 feet high. The average is closer to 2 feet and the tallest ones peak at 100 cm. This makes Sweet Mango a great indoor strain that grows well in soil as well as all manner of hydro and speciality setups.
They don't insist on a specific light cycle, but they do like a steady diet of appropriate nutrients.
Outdoor yields are equally impressive at 60-80 g per plant. The plants tend to stretch a bit more outdoors as well, but the height remains the same (capped at just under 3.5 feet).
Plan harvest by mid-October at the latest. Earlier is better as these plants don't like drastic temperature fluctuations between day and night.
These plants are not just feminised, but also auto-flowering, making them doubly easy to cultivate.
This is great news for growers still learning their game or those who appreciate working with strains that don't require an excess of attention but generate singularly impressive yields.
Genetics:
Mango x Big Bang Autoflowering