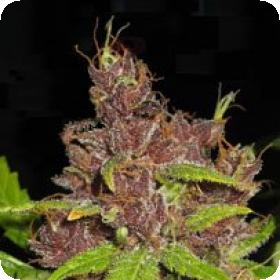 Purple Mazar Autoflowering Regular Seeds
Flash seeds Purple Mazar is a reworking of the famous Mazar Afghani cut with the iconic Purple Passion. It is now available as an autoflowering strain that has all the best of classic Mazar with the signature Royal purple colour of purple passion. The effect it produces is relaxing and long-lasting and is great for treating the symptoms of anxiety depression.
Purple Mazar represents a significant improvement over the original. It is a sativa-dominant hybrid with a 60:40 ratio of sativa to indica. It has a very pleasing flavour and aroma and offers yields that are superior to many auto flowering strains. The buds produce an end product that is highly potent with an effect that is long-lasting.
The plants can be identified by their single primary cola that grows very large and houses many sizeable buds. The buds develop a thick layer of crystal resin as the plants mature. THC content for this strain is high. This makes Purple Mazar exceptionally potent and very invigorating. The cured product has a very pleasing and mellow aroma, even before lit, and carries with it all the best qualities of the original Afghani. The flavour is light and not as hashy as classic Afghani, but is still very pleasing and robust.
Growers who have experience working with Afghani should find these seeds very easy to cultivate. The plants grow well indoors and respond well to all popular growing methods including hydroponics, soil, potting, SOG and ScrOG. The plants reach of medium height and are relatively compact at full maturity, making them easy to light evenly. When grown outdoors, they will flourish in a moderate climate and produce superior yields, especially in areas with long growing seasons. Harvest of these plants should be planned for the middle of October at the latest when growing outdoors in the northern hemisphere.
Please remember that the growing of cannabis plants and the cultivation of seeds is illegal in some countries - please check the laws of your country and don't be growing any plants if it is against your country's laws.