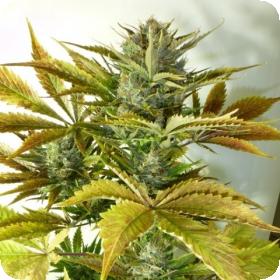 California Haze Autoflowering Regular Seeds
California Haze is a combination of Sour Diesel and Haze with a touch of Mexican Ruderalis genetics thrown in for good measure. It is extremely versatile and will grow well in most environments. It can even grow at high latitudes, however not as well as it will in other settings.
The buds are small and tight but completely covered in resin. It t has an amazing scent of sour fuel with a mouth watering taste to match. Its effect is powerful, energetic and happy with a nice bodily stone that makes it an amazing strain for relaxation. It is also quite a beautiful strain that will show some lovely colours as it reaches maturity.
This strain is auto-flowering, which means it will flower automatically instead of as the result of a specific light cycle. This removed the vegetative part of the growing process, which drastically shortens the flowering time. A lot of commercial growers with a large turn over prefer to use auto-flowering seeds.
They are also perfect for those who just want a small, personal garden due to their decreased height. Auto-flowering plants will usually be shorter and stockier than regular plants, but with exactly the same yield. These seeds will also grow into a combination of male and female plants, which makes them perfect for breeding.
This strain will grow well indoors, outdoors or in a greenhouse.
Remember that the cultivation of cannabis seeds is illegal in some countries, please check the laws of your country before attempting to cultivate cannabis seeds.
Genetics:
Sour diesel x Haze x Mexican rudi