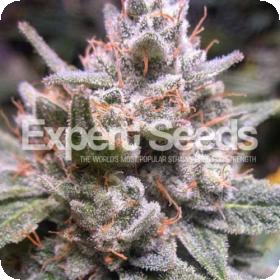 Expert Gorilla Auto Feminised Seeds
Joesy Whales and Lone Watie invented Gorilla Glue #4, which won the 2014 SoCal (Southern Californian) as well as the Michigan High Times best hybrid honours. It has quickly gained a reputation as one of the greatest cannabis strains currently available. This auto-flowering variety allows even more people to grow this wonderful plant.
Expert Gorilla Auto was created after a clone of Gorilla Glue #4 was given to representatives of Expert Seeds during a cannabis event in California. The plant is 60% sativa, with the remaining 40% split between indica and ruderalis genetics. When grown indoors, this strain can yield between 400 and 600 grammes per square metre in in 55 to 58 days from seed to harvest! Outdoors, yields should range from 50 to 300 grammes per plant, depending on local conditions and grower attention and expertise.
With a THC content of 23 percent, Expert Gorilla Auto is a powerful autoflowering plant. With a powerful, euphoric effect and body relaxation, the effect is remarkably similar to the non-auto version.
The sweet, spicy chocolate flavours have been preserved and carried over into this series, making it taste unlike any other automobile. With 0.5 percent CBD, 0.08 percent CBN, 0.08 percent THCV, and 1.4 percent CBG, THC production is an almost astounding 21%. The effect produces emotions of enjoyment and relaxation in equal amounts, as well as euphoric feelings of euphoria and hunger. The cravings are calling! Its very soothing properties make it a first-rate therapeutic strain for the treatment of pain, eating and sleeping issues, as well as reducing stress and assisting individuals suffering from depression.
Why not give Auto Choco Kush a try now by purchasing these feminised seeds from Seedsman? It could be the best auto-flowering indica ever made. You will not be dissatisfied.
Genetics:
Gorilla Glue #4 x Ruderalis