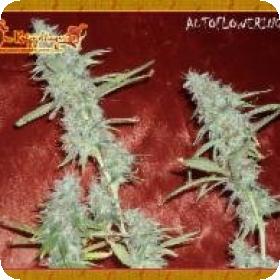 Krippleberry Auto Feminised Seeds
Krippleberry is a combination of the blueberries and ruderalis genes, coming together to create something really special.
This strain is auto-feminised and still has all of the amazing flavour and scent of the original legendary strain.
The buds are extremely tight and compact with a thick coating of resin. The flavour is fruity and powerful, enough to make any mouth water.
This strain is both auto-flowering and feminised. Auto-flowering plants will flower at a certain point in their lives rather than as the result of a light cycle.
This shortens the flowering time of the plants as well as the stature. Even though they are smaller they will produce the exact same yield.
This makes them great for small growing spaces and commercial growing. Feminised seeds will only grow into female plants, ideal for growers who don't plan on breeding their own crops.
For these growers the male plants are a nuisance as well as a huge waste of time and money. Feminised seeds also tend to be higher in quality and uniformity than regular plants.
This strain has a flowering time of 60 – 70 days and can be grown indoors, outdoors or in a greenhouse.