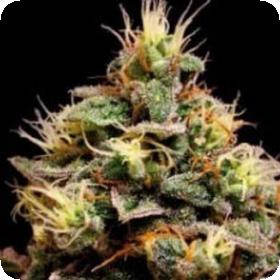 Kabrales Automatic Feminised Seeds
The Blimburn Kabrales Automatic Feminised Seed is a hybrid between two very popular strains, Lowryder #1 and Cheese. Cheese is well known for its very pungent odour.
This hybrid has managed to keep the best genes from both mother and father plant with the mostly Indica flavour and the aforementioned strong cheese smell.
This strain has been genetically altered to be auto flowering but has been said to have all of the excellent qualities of the normal feminised strain.
Being both feminised and Autoflowering this strain basically takes care of itself.
The feminisation of the seeds mean that they will not produce male plants, to many this is quite the bonus. Male plants tend to take up space, time, and money that could be used for the far more useful female plants.
They have a higher level of potency and uniform quality than regular seeds which is also a very desirable feature. Female plants can even be coerced into producing male flowers which can then be used to fertilise a female plant.
This means that they can produce their own seeds which completely eliminates the need for the male plant, even if this is the trickiest way of producing seeds.
Auto flowering means that they flower at a certain time of their lives rather than as a result of a light regime. They have a much shorter life cycle which means that they skip over the vegetative stage of growth and can grow in most conditions.
They can grow indoors, outdoors, in a greenhouse, hydroponically, making them extremely versatile.
This strain has a medium THC content, a yield of 50-130g; they grow to roughly 80-130 cm in height, and have an astonishingly short flowering time of just 70 days.
Please remember that the growing of cannabis plants and the cultivation of seeds is illegal in some countries - please check the laws of your country and don't be growing any plants if it is against your country's laws.