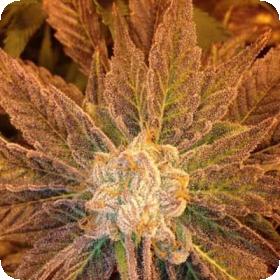 9 Pound Hammer Regular Seeds
This beautiful monster of a strain hits harder than a ton of lead and creates mountains of rock-solid, resinous buds in as little as 50 days.
Genetics in this cross come from GooBerry x Hells OG crossed with Jack the Ripper, resulting in a 20/80 Sativa/Indica composition.
Tasting of fresh lemon peel, lime juice, melon and grape, this is a seriously fruity number with a sugary-sweet finish.
Effects are deep, strong and long lasting, with a full-body stone coming on in wave after wave, until a blissful state of meditation is achieved. Stress slips away completely, whilst pain gets blissfully numbed: A great night-time strain.
Genetics:
GooBerry x Hells OG x Jack The Ripper