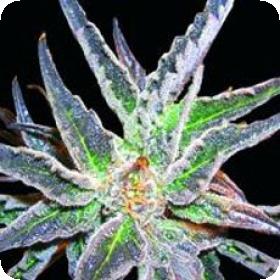 Part of World of Seeds' Diamond Line, this cross between a Mazar-i-Sharif and an AK 47xBlack Domina hybrid is an early maturing indica-dominant strain that produces exceptional yields regardless of the growing environment.
Its high THC content delivers a powerful punch, but it has also been heralded by the medical marijuana community as a great strain for everything from migraines to joint pain and sleeplessness.
The indica genetics keep these plants short, but they still manage to produce incredibly well, particularly for a feminised variety. Their squat stature also makes them great for indoor growing, especially if you are working with limited grow space like a closet or balcony.
These plants thrive in a variety of growing environments, both soil and hydro, and they produce even better in SoG and ScrOG setups.
Outdoor growers will want to plan for an exceptionally early harvest. Mid-September should be the latest as these plants do not like colder nights.
Plant them with the goal of providing them the maximum number of warm sunny days in which to mature. They stand up well against mould and fungus so humid days and balmy nights won't affect the quality of the end product.
Regardless of the growing environment, the plants mature at about 8 weeks and will reach their maximum potency, flavour and aroma in that amount of time. The finished product will maintain its full strength for months if it is properly dried and stored.
If you are an experienced grower looking for a fast, easy-to-handle, high-potency strain to help with medical issues or one that will just provide a relaxing evening at home, Space is your pick.
It is also a great choice for novice growers since it provides nearly instant gratification and is extremely easy to cultivate.