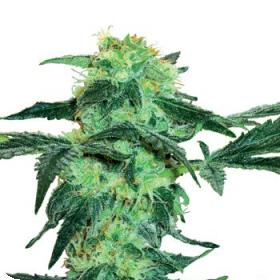 White Ice Feminised Seeds
This strain is an indica dominant resin producing machine, hence the name. The buds are completely covered in a deep, sparkling layer of THC rich crystals.
This strain was created by combining Northern Lights, Original Afghani Hash and Dutch Skunk. This strain will stay short and squat, making it superb for indoor growing, but will still produce amazing yields of top quality cannabis.
This strain, if grown outdoors, will thrive in a warmer climate as it likes lots and lots of sun. The scent is sweet and pungent with smoke to match.
The high is extremely physical and will have smokers completely relaxed right away, but without the dreaded couch-lock.
This strain is an ideal one for just having a good old relax. Maybe even smoke it in a bubble bath, for those who really need to chill out.
White Ice is a feminised strain, ideal for those who have no plans to grow their own crops.
Feminised seeds were specifically created to make life easier, and cheaper, for all those growers who were sick to death of having to bin half of their plants so that the males couldn't harm the females.
Not only is this a huge waste of money but of valuable time and space. Now growers can focus purely on their lovely female plants, which are likely to be higher in quality and uniformity than regular plants.
Some breeders even prefer to use feminised plants. However feminised breeding is not recommended for novice breeders due to its difficulty level.
This strain can be grown indoors or outdoors and has a flowering time of 45 – 55 days.
Remember that the cultivation of cannabis seeds is illegal in some countries, please check the laws of your country before attempting to cultivate cannabis seeds.