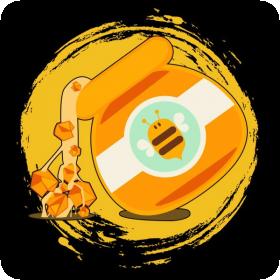 Honey Rock Feminised Seeds
This strain is indica dominant and can be grown in a range of environments, however it does love to be grown outdoors in sunnier climates.
This strain is a cross between Super Widow and South African Swazi Poison. This strain will grow to a medium size and will produce quite impressive yields.
When it is grown indoors it will produce around 450 – 575 g/plant and outdoors around 650 – 850 g/plant. This strain will produce a high amount of THC along with a medium amount of CBD.
The result is a powerful strain, ideal for those who struggle with sleep and relaxation. The scent is a combination of sweetness and woof with a delightful flavour to match.
Honey Rock is a feminised strain, meaning that it will only grow into female plants. Feminised strains also require a light cycle in order to flower. Most growers have no need for the male plants, which take up around half of a regular crop.
This means that they have to remove the male plants during the flowering process, so that they cannot harm the females. This in turn will waste a lot of time, money and energy that would be much better spent on the female plants.
Feminised seeds also tend to produce uniform, high quality crops. For this reason some breeders also prefer to use feminised seeds. However, feminised breeding is not easy and should only be attempted by experienced breeders.
This strain can be grown indoors, outdoors or in a greenhouse and has a flowering time of 56 – 63 days.
Genetics:
Super Widow x Swazi Poison