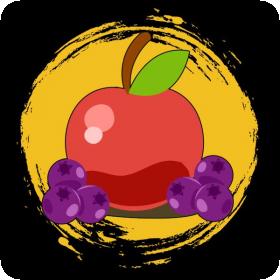 Appleberry Feminised Seeds
Appleberry is an indica dominant strain that is a cross between Dynalicious and White Widow Original. This strain is an award winner and took 1st Prize at that 2016 Highlife Cup BIO category.
It will grow successfully in most environments, but is recommended for lower latitudes such as Southern Europe. This strain will produce large amounts of THC with a medium amount of CBD, which makes its effect powerful but not overwhelming.
Its flavour is fruity and sweet with floral hints. The effect is extremely relaxing and ideal for those who have just had a very long day. 
This strain is feminised, meaning that it will only grow into female plants. Feminised seeds are ideal for growers who don't plant on breeding their own crops. For these growers the male plants, which take up around half of a regular crop, are not only unnecessary but are actively irritating.
During the flowering process, they can harm the female plants, and have to be removed before they can do any damage. This is a huge waste of time and energy, as well as wasting half of the seeds purchased.
By using feminised seeds growers tend to save a huge amount of money whilst also receiving a higher quality, highly uniform crop. Some breeders also prefer to use these seeds.
However, feminised breeding is difficult and should only be attempted by experienced breeders. 
This strain can be grown in a greenhouse, indoors or outdoors and has a flowering time of 56 – 63 days. 
Remember that the cultivation of cannabis seeds is illegal in some countries, please check the laws of your country before attempting to cultivate cannabis seeds.