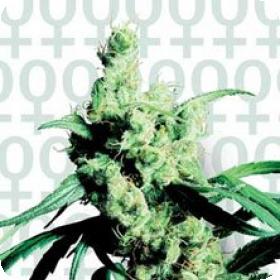 Silver Haze #9 Feminised Seeds
The first ever Haze strain sits proudly in its prominent place in the cannabis hall of fame as a breeding masterpiece. Haze is easily the most powerful Sativa with the purest genetics that has ever been created.
Silver Haze was Sensi Seeds' original and award-winning haze strain and as a result of a breeding programme there is a feminised version of the strain available, Silver Haze #9. This breeding programme was created in order to bring the impressively tall Sativa Haze strain indoors.
Now this strain flourishes under lights which has caught the attention of many growers and breeders everywhere. The notion that growers will now be able to grow Haze indoors is a hugely exciting one to the cannabis community.
This strain is an almost completely pure Sativa strain which means that it can bloom and vegetate at the same time in its flowering cycle. Of course the powerful, cerebral, effect of the strain is one of Silver Haze #9's most sought-after attributes.
As previously mentioned this is a rather special feminised version of the already very popular strain. Feminising a strain simply means that the breeder has eliminated the possibility of the seeds growing into male plants.
For the majority of growers this is certainly the best way to go as the only function of the male plant is to produce the pollen necessary for breeding.
So for those who have no need for this pollen male plants take up time, space, and money which could otherwise be used on productive female plants. Using feminised seeds eliminates issues such as having to purchase twice as many seeds as the desired number of female plants.
For those who do not have the luxury of large growing spaces feminised seeds ensure that the space they do have is used to its full potential. For breeders feminised seeds are still a strong option as it is possible to use two female plants in the breeding process.
It is certainly a far more difficult breeding method but, if properly stressed, the female plant can produce the very same pollen as the males. The results will often have a higher level of uniformity and quality than seeds born of a male and a female plant.
The Silver Haze #9 strain thrives in sunny or Mediterranean environments where it can receive plenty of direct sunlight, it can also be grown indoors under lights. The strain is 80% Sativa and enjoys a relatively short flowering period of just 65 - 80 days.
Please remember that the growing of cannabis plants and the cultivation of seeds is illegal in some countries - please check the laws of your country and don't be growing any plants if it is against your country's laws