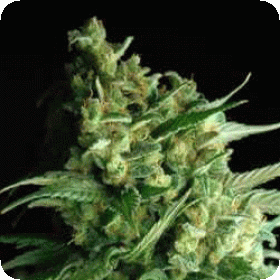 Double Bubbleberry FEMINISED Seeds
Double Bubbleberry is a fantastic back cross of the famous Bubbleberry. This strain was created by isolating the female of the species and selecting only the finest, most trichome covered specimens.
The result is a wonderful strain that has all the hardiness and amazing effect of the original mother. This strain has a delicious smell and flavour of bubblegum with a light effect that is both happy and relaxing. The perfect strain for a relaxing evening in with close friends.  
This strain is feminised and will only grow into female plants. Feminised seeds were designed to make life easier for growers who don't plan on breeding their own crops.
For these growers the male plants are a nuisance and can damage the females during the flowering period. This means they have to be removed before they can do any harm.
Since around half of a regular crop is male this would be a massive waste of time and money. Feminised seeds also tend to produce higher quality plants than regular seeds. These seeds are also photo-period and will need a light cycle in order to flower. 
This strain is extremely versatile and can be grown indoors or outdoors. 
Remember that the cultivation of cannabis seeds is illegal in some countries; please check the laws of your country  before attempting to cultivate cannabis seeds.