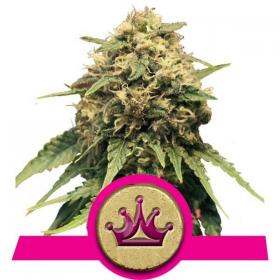 Special Queen #1 Feminised Seeds
While other growers rushed to produce more and more complex strains Royal Queen Seeds decided to develop a strain that is reliable and prefect for growers who are just starting out, and so Special Queen #1 was born. It is easy to grow in both hydro and soil set ups and therefore is a great competitor for commercial crops. Queen #1 is a cross between Power Bud and Skunk resulting in a 50/50 Indica, Sativa split and so combines the best of both and has a THC content of 14%. Although it prefers sunny climates it can also grow in more northern countries such as in the Netherlands or the UK and has a short flowering time of 7 weeks. Indoors it will grow to roughly 1.5 metres in height and will produce a yield of 500-550 gr m2 under a 600 W light, outdoors it can grow to over 3 metres and result in 500-550 grams per plant dried.
As well as the fact that it is easy to grow Royal Queen Seeds has helped the new grower by making Special Queen #1 Feminised which means that there is a 99.99% chance that all of the seeds will be female. This is useful because really the males have no use other than take up time and space which would be better spent of the females as it is these which are needed for cultivation. Regular seeds produce an equal split of males and females which means that a grower would have to buy twice the number of seeds as females needed, and so must spend twice the amount of money. Males do come in useful however when a grower wishes to breed their own crop as it is the males which produce the pollen. Even so it is possible to manipulate the females into producing this pollen which would result in a more uniform crop than if both males and females had been used. This process however is extremely tricky and is not recommended for the new growers which Queen #1 is aimed at.
Please remember that the growing of cannabis plants and the cultivation of seeds is illegal in some countries - please check the laws of your country and don't be growing any plants if it is against your country's laws.