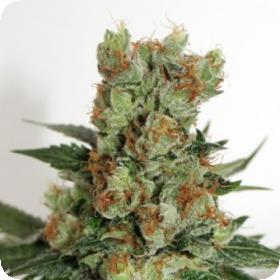 This strain is a combination of the much loved New York City Diesel and OG Badazz. New York City Diesel is so in demand because of it's iconic flavour and amazing resin production.
OG Badazz is well known for its out of this world potency. As a combination these plants make one amazing strain with an amazing flavour of tangerine, vanilla and grapefruit.
The plant itself produces a large number of branches and has a short flowering period when compared to the New York parent.
Fuel OG is a feminised strain and will only grow into female plants. Feminised seeds are ideal for growers who don't plan on breeding their own crops.
For these growers the male plants are little more than a nuisance and need to be removed before they can harm the female plants. They also waste valuable resources such as time, energy and money.
Feminised seeds also tend to be higher in quality and uniformity than regular seeds. For this reason some breeders also prefer to use them, even though feminised breeding requires a lot more skill than regular breeding.
This strain can be grown indoors or outdoors and has a flowering time of just 60 – 65 days.