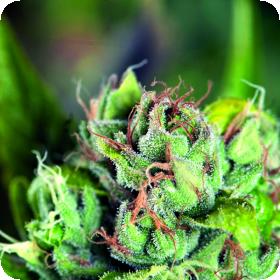 Tahoe Cure Feminised Seeds
Tahoe Cure is a 90% Indica hybrid created by combining OG Kush and Grape Stomper BX2. The therapeutic qualities of this fruity-flavoured strain are well-known in the United States.
In a 55-day flowering phase, indoor cultivation generates more than 350 grammes per square metre. Harvests in the northern hemisphere take place around September, with yields of roughly 750 grammes per plant.
Tahoe Cure has a pine and grape aroma, and a sweet flavour with touches of spice and Skunk. 
THC production is high, at 25%, whereas CBD production is low, at less than 1%. 
This is best used in the evening and at night, in addition to inducing a positive mental attitude, it is also extremely physically calming, relieving pain and anxiety, stimulating hunger, and soothing hurting muscles. 
Its sedative effect promotes sleep and relaxation.
Genetics:
OG Kush x Grape Stomper BX2