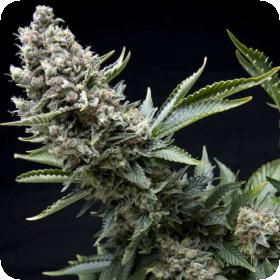 New York City Feminised Seeds
New York City from Pyramid Seeds is a lot like its namesake, sometimes super fast, sometimes a little subdued, and generally smells of diesel. The taste is relatively unique to the strain making it a real collectors item, a serious blend of citrus and fuel.
This plant has grown extremely well in aeroponic systems as well as other indoor systems. To get a really good outdoor harvest this strain will need to be given plenty of room to grow.
The THC levels of the strain are high so users should be ready for an extremely powerful smoke. New York City is an extremely resilient plant and can survive a number of different environments whilst being super resistant to damp and fungus.
This strain is Sativa dominant with genetics that are 70% Sativa and 30% Indica which explains its effects.
New York City can be purchased in its feminised form meaning that all of the seeds will grow into female plants.
Since these were first created they have become amazingly popular with growers and more experienced breeders. This popularity is likely primarily due to their increased quality and uniformity.
This strain has a flowering time of 70 - 80 days and should be harvested at the beginning of November.