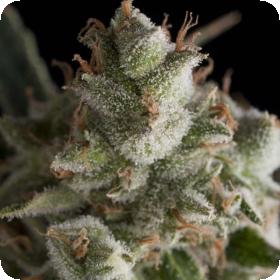 Fresh Candy Feminised Seeds
For those who like a little something sweet comes Fresh Candy from Pyramid Seeds. This strain was born after the breeders began work on the 2001 regular Sweet Tooth strain. After a while they produce this sturdy, Indica dominant strain to the market in 2013.
The name, of course, comes from the flavour. It has an extremely powerful and sweet caramel taste.
The strain gives impressive yields and is perfect for all growers old and new. It is extremely easy to grow and can adapt to a wide range of environments, so even for those who aren't capable of top quality care Fresh Candy will give great rewards.
The flowers are extremely robust and dense and if harvested correctly the intensity of the taste can be played around with.
Fresh Candy is a feminised strain meaning that it will only grow into female plants but still requires a specific light cycle in order to flower. These seeds often produce higher quality crops full of uniform plants.
They also remove the issues that can pop up with the male plants further down the line, especially for those who don't plan on breeding.
This strain can be grown indoors and outdoors, its flowering time of 50 - 60 days and it should be harvested in early September. It can produce indoor yields of 500 - 600 g/m2.
Genetics:
Afghani x Hawaiian x Nepalese