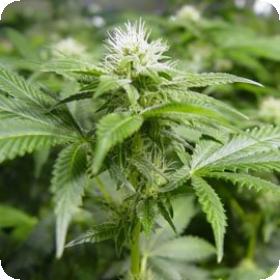 White Widow Feminised Seeds
White Widow is one of the most popular strains anywhere and it has been duplicated and re-invented by breeders worldwide. In fact, it would be difficult to find anyone who is even a casual cannabis enthusiast who hasn't tried it or at least knows it exists.
This strain has a very specific genetic makeup and it is also highly sought-after as a parent strain for new cannabis varieties by breeders who want to deliver the highest quality coupled with ease of cultivation and superior yields.
One look at these plants and even hardcore growers and breeders have to be impressed. They have a thick coat of resin that is almost hypnotising in its look. The aroma is very strong and grows more intense as the plant matures.
Light it up and the smell only gets better. The flavour brings to mind thoughts of freshly-cut flowers wafting over warm summer breezes. The smoke is smooth and easy on the draw.
White Widow delivers an effect that is, to many, the purest representation of what the experience of marijuana should be. The hit is very strong but also very relaxing. At the same time it revitalises and invigorates.
It perfectly represents every aspect of itself in its appearance and in its delivery. Some users say it provides an immediate, strong bust of energy, others say it makes them feel so relaxed they just want to lean back and enjoy it.
At the end of the day, it truly is one of those strains that is all things to all people and whatever that translates into for the user, it certainly doesn't disappoint.
Growing White Widow is relatively simple. It grows well both indoors and out and the yield is singularly impressive. The end product stays fresh and potent for months when cured and stored properly.
Please remember that the growing of cannabis plants and the cultivation of seeds is illegal in some countries - please check the laws of your country and don't be growing any plants if it is against your country's laws.