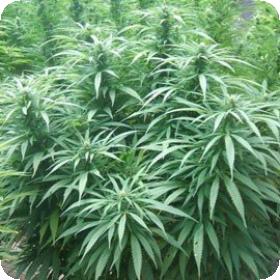 White Rhino Feminised Seeds
White Rhino is a notably potent hybrid that shares its genetics with the iconic White Widow. It takes the very best that White Widow has to offer and adds in the extra benefit of some strong indica traits.
The result is an interesting hybrid effect that has the kind of uplifting effect expected from White Widow with a heavy, head-filling stone. The effect on the plant itself is that it grows a bit stockier and shorter as well as one that flowers in less time - about 65 days on average.
The aroma of White Rhino has more of a hashy quality than original White Widow and a more harsh smoke. The flavour is also a bit sharper. These differences only speak to the intensified strength and duration of the hit.
The yield provided by these plants under favourable growing conditions is about 450g per square metre.
White Rhino seeds grow and behave like a pure indica strain so growers used to working with indicas should employ their preferred methods when cultivating White Rhino.
It has been suggested by some growers that hydroponic methods are ideal for this strain, but many others also report equal success growing in soil and even growing outdoors.
Outdoor growers do need to be aware that these plants respond better to warmer weather and better still in areas where the growing season is long and relatively warm throughout.
Probably their most attractive aspect is that White Rhino seeds are feminised, making them simple to cultivate even for the most novice of growers.
There are virtually zero instances of male plants and the yield is generally not affected adversely by a little trial and error. Buy and grow these seeds with confidence - they know how to work well with their growers.
Please remember that the growing of cannabis plants and the cultivation of seeds is illegal in some countries - please check the laws of your country and don't be growing any plants if it is against your country's laws.