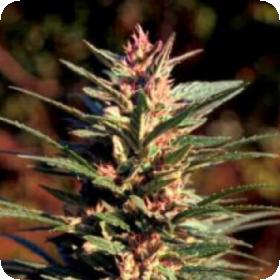 Danky Doddle Feminised Seeds
Danky Doodle or as it is now referred to, for pretty obvious reasons, Double D is a super productive sativa dominant strain from KC Brains. This strain is a combination of Big Buds 93, a male KC 636 and Viking 90. This strain is easy to grow since it is resistant to disease, mould and pests.
The buds on this plant are massive with an intensely spicy scent and tonnes of resin. Double D is meant to be one of the most potent strains around with THC levels reaching between 15% and 20%.
This strain will grow to pretty impressive heights outside, but stay nice and small when grown inside, a perfect plant for those who are just starting out. The effect is powerful, so newbies should watch out for that.
This strain is feminised, which means that it will only grow female plants. Feminised seeds are very popular with growers because they can save a huge amount of time, money and energy. The males are totally useless to growers and would just have to be chucked out before they could harm the female plants.
This means essentially binning half of the seeds. Feminised seeds also tend to be higher in quality and uniformity than regular strains.
Double D takes just 9 - 12 weeks to flower and can be grown inside or outside.
Remember that the cultivation of cannabis seeds is illegal in some countries, please check the laws of your country before attempting to cultivate cannabis seeds.