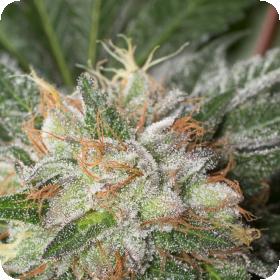 Bubba Kush Feminised Seeds
This feminised version of Bubba Kush is an almost pure indica that produces a classically indica effect. It has been touted as a great strain for sleep disorders or just for the casual user who wants a good, deep, couch-locked stone at the end of a long day.
The effect is nearly immediate but gets stronger over time. Sleep is practically inevitable and most users report zero side effects - no hangover or paranoia.
The plants have a classic indica look as well. They are short in stature with broad, deep-green leaves with very little space between internodes. They finish after only about 9 weeks and the end product is top-notch.
The flavour is sweet and fruity and the aroma matches. THC levels are medium to high so it's not the most powerful weed out there but it gets the job done.
The small size of the plants makes Bubba Kush a great strain for indoor growing. It performs well in soil as well as hydro setups.
SOG and ScrOG are said to be great methods for maximising yields, and they can also be grown in soil setups in closets and shelves.
The tallest plants grow to about 4 feet indoors but most are shorter and can be trained to grow squat via LST without sacrificing too much in terms of yield.
Outdoors, these are great plants for balcony growers, and they are inconspicuous in the garden. They do like long days of sunlight and aren't fond of drastic temperature fluctuations, but they grow well in most parts of the Northern Hemisphere.
Harvest month is October and exposure to frost should be avoided. The tallest outdoor plants are about 6 to 7 feet high and yields will generally be higher than they would be growing indoors.