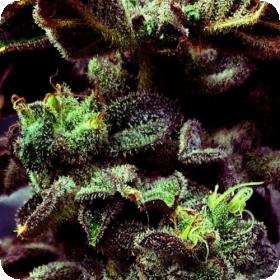 Strawberry Cane Feminised Seeds
Strawberry Cane is the result of the crossing of the legendary Strawberry Stardawg of Holy Smoke with Slurricane from Inhouse Genetics. Expect very high yields from potent buds.
Suitable for both indoor and outdoor cultivation Strawberry Stardawg is a high-quality resin producer and therefore a great choice to make your extracts.
Multiple long colas become heavily laden with purple buds, and this is only increased with super-cropping-a technique in which the stems are weakened just below the flowering clusters so that they fall down.
SCRoG will also work well The stress-effect that this has caused the plant to rally with a growth spurt and to allow each flower to grow upwards towards the light. In this way, the bud-size is considerably increased.
The smell is gorgeous with the quality of fuel and strawberry.
THC is very high and has a quick and creative effect. This evolves into an extremely comfortable and relaxing stone.
It is therapeutically recommended for muscle aches as well as for stimulation of appetite.
Genetics:
Strawberry Stardawg X Slurricane