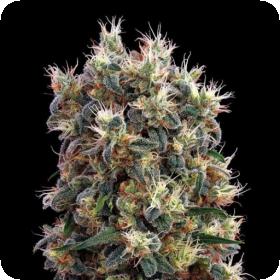 The Church Feminised Seeds
Don't miss out on the chance to experience this powerhouse "holy trinity" of quality genetics all in one place. It's time to get to know this expert mix of Super Skunk, NL and Erdbeer (that's German for, "Strawberry") - a great Swiss Indica/Sativa hybrid.
This is is an excellent strain for growing outdoors. It has been grown successfully in the Swiss mountains under very damp conditions with zero issues with mould or fungus. It is an ideal strain fro growing in climates that are rainy or humid. Better still, it is a very full and fast-finishing plant at just 8 weeks from seed outdoors.
The plants finish even faster in indoor setups. It is possible to shave an entire week or better off the flowering time and produce a product that is identical in quality. Whether growing indoors or out, leaving them an extra week will stimulate more resin production so a little patience can reap a big reward.
The Church is also a very aromatic strain. The smell it gives off is very sweet and strong with clear notes of classic Skunk. Outdoor growers should take discretion seriously and plant out of range of nosy neighbours. The smell is also very permeating indoors so good ventilation and air filtering is a must.
Outdoor growers should plan harvest for the beginning of October and expect yields topping 900 g of great quality product per plant. Indoor flower time is just 8 weeks and yields can be up to 800 g per square metre. Couple its exceptional yields with its powerful effect and you've got the perfect indica-dominant hybrid. THC levels of The Church are very high.
The effect is moderate but potent. Anyone familiar with either Northern Lights or Skunk should feel right at home. CBD content for this strain is so low it's difficult to measure.
Genetics:
Swiss Sativa x Skunk x Super Skunk x Northern Lights