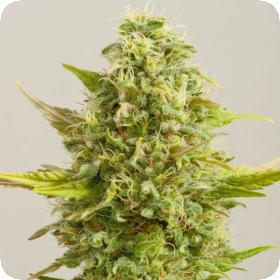 Royal Kush Feminised Seeds
All those with a love of Afghani and Skunk better strap in - this is going to be quite a ride! Royal Kush - the love child of those two iconic strains - hits hard, lasts long and provides one of the best hybrid effects one could ask for. The balance here is truly amazing , starting in the head then working its way through the body for a feeling that is at the same time relaxing as well as energising.
These seeds take well to growing both indoors and out and are adaptable to a number of climates. The plants themselves present with growth patterns that are very typical of an indica and a leaf structure that is a clear mix of sativa and indica genetics. They grow to a medium size with broad, bright green leaves and they love being bathed in a bounty of strong light.
These plants flower quickly - just about 9 weeks - and end with a thick coating of resin covering a tantalising array of white and orange hairs. The pungent smell of Skunk is cut with fragrant notes of sour citrus mixed with sweet strawberries.
Indoor growers are cautioned to provide good ventilation and air filtering as the smell will permeate a considerable radius when growing, especially in the flowering stage. Outdoor growers should take equal care and exercise discretion - these plants like to make their presence known.
Outdoor harvest is typical for an indica/sativa hybrid. Plan to complete harvest by late October in the Northern hemisphere, earlier if the growing environment is typically subject to early frost. Moderate climates are ideal but these plants do stand up quite well to fluctuations in temperature. Indoor growers will find that any preferred method will yield comparable harvests.