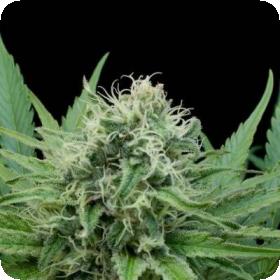 Raw Diesel Feminised Seeds
G13 Labs delivers another top-shelf hybrid with Raw Diesel and it is everything the name suggests. A cross between a genetically-superior Mexican Sativa with a classic Afghan, the resulting plants grow to a medium height and are very easy to cultivate.
They are also as sativa as it gets with its effect but manages to grow and flower like an indica. Only 60-70 flowering days (and about 10 days of curing) until the real fun begins. Yields are also very impressive at a whopping 950 g per plant on average.
The flowers of Raw Diesel has long, beautiful flowers that become coated with a sugary crystalline resin. The aroma profile is strong with fruity citrus overtones cut with the oily petrol quality that is common to strains with Diesel genetics.
Indoor growers will be especially pleased by the performance of Raw Diesel. This strain was practically made for SOG and ScrOG setups and they require only typical light cycles to grow and flourish.
Flowering time is only about 8 weeks and the tallest plants top out at 5 feet. Most indoor plants are considerably shorter. Outdoors, these plants finish on or near 1st October and can be let go a bit longer if there is not immediate threat of overnight frost.
The effect of Raw Diesel is like any classic sativa. It is a great social strain as well as one that works well to combat the effects of migraines. It fills the head and washes over the body with a high that is long-lasting and uplifting.
New to cannabis cultivation? Raw Diesel is a great place to start. It is a very no-nonsense strain that is very hardy and very forgiving. It is a great strain for developing one's green thumb and delivers a product that is certain to make a lasting impression.