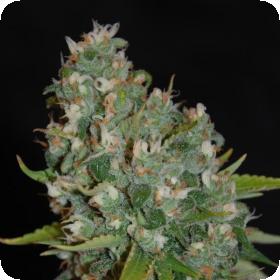 OG13 is a backcross of a genetically-superior OG male and the original female. The result is a much more stable and particularly lemony plant. It has a paler purple hue than the original but the yields and quality of the buds are virtually indistinguishable from one another.
Only the flavour is a bit different with a spicy profile that is quite the departure from the original.
The effect of OG13 has a distinct indica leaning and has an effect that varies by the user. Some find it extremely potent while others claim it to have a mild yet head-filling effect. It is also much easier to grow than its predecessor.
Couple that with the fact that these plants are feminised and one is left with a strain that can be cultivated by even novice growers with great success.
Indoor growers will appreciate how well this strain takes to any grow method, soil or hydro. Greenhouse growers report having particularly good results.
Indoor flower time is 60-65 days on average and the plants respond well to a steady flow of nutrients and standard lighting cycles. Yields per plant are way above average and the quality never wavers.
Outdoors, the plants grow larger with even higher yields. Temperate climates are ideal but OG13 can stand up to a variety of weather and climate conditions.
They resist moulds and fungi as well as a variety of common pests that can be problematic to growing cannabis outdoors.
Don't miss out on the opportunity to work with these high-quality mostly-indica seeds. The seed are very reliable with a newly flawless germination rate.
The plants are very easy to grow and will be appreciated by first-time or inexperienced growers for their ease of handling and the minimal amount of maintenance they require.
Genetics:
Thai x Pakistani x Diesel