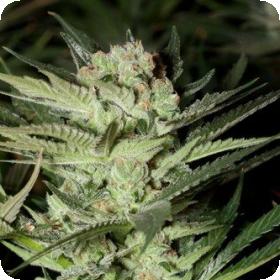 Mozarella Feminised Seeds
Say, "Cheese!" because this strain is going to put a huge smile on your face. With parents like UK Skunk and Afghani, how could it not? This strain delivers the very best of both parent strains and grows hardy and vigorous.
The effect is what one would expect with parents like these: heavy, long-lasting, narcotic, and euphoric. Being a 60:40 indica-sativa, the effect is very heady but also envelops the body in a warm, relaxing cloud. The buds produce a heavy yield of tantalising crystal resin. One try and we think you will agree - this one really raises the bar.
Indoor growers should keep in mind that these plants do grow tall so soil setups and high ceilings are ideal. They are very easy to grow and thrive with a good base of basic nutrients and typical light cycles. Indoor flower time is approximately 60 days but the product quality improves when given an extra week to 10 days to more fully develop. Watch out for the smell though - it is vey pungent and permeable. Make sure the grow space is well filtered and vented.
Outdoor plants are ready to harvest on a typical schedule. In the Northern hemisphere, harvest can begin in early October and continue until threat of frost. The plants stand up well to fluctuations between daytime and nighttime temperatures but will give the largest and best quality yields when planted early to take full advantage of the long summer days and warm nights.
Anyone who is new to cannabis cultivation would be well-served by paying close attention to this particular strain. The plants are very easy to work with and are extremely forgiving when it comes to inexperience. Want to develop that green thumb? This is a great strain to begin with!