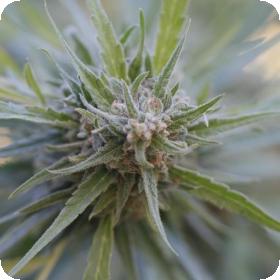 Midnight Kush Feminised Seeds
Midnight Kush is a mostly-indica strain that produces a particularly psychedelic property. A product of crossing Hash Plant with Blueberry, the plants are vigorous and adapt well to their growing space, making them a great choice for virtually any grow space. They also produce tight, rock-hard buds that are sticky and dense.
The look alone of these plants makes one impatient for what they will ultimately deliver. One would be hard-pressed to find a plant that develops a more stunning shade of purple, especially outdoors. The cool nights make these plants absolutely radiant, adding tremendously to its bag appeal. The purple comes out indoors as well but is less pronounced.
Outdoor growers in particular will appreciate how well these plants stand up to the elements. One of the parent strains is a variety of Blueberry that thrives best outdoors. Those genetics also make the plants highly resistant to mould, fungi, and a host of other pests and diseases common to cannabis.
Indoor growers, however, should not discount the benefit of working with Midnight Kush. The look will be slightly different and the plants will grow a bit smaller but the quality, flavour, aroma, and effect remain fully intact. Remember that these plants will grow to accommodate their space so feel free to try any variety of methods and pruning techniques. These plants are also easy to train.
Plan to harvest Midnight after about 9 weeks of flowering indoors. Outdoor plants will be ready for harvesting by early October. Harvest can continue until frost sets in. In most cases, that means sometime in November.
Don't miss out on the chance to work with these seeds. They are a versatile and hardy option that will make even the most novice of growers look like a seasoned pro.
Genetics:
California Hash Plant x Northern Lights x Blueberry