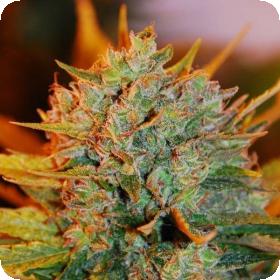 It's time to experience the magic of two of the world's most iconic strains in one powerhouse package. Gigabud is an expert cross by G13 Labs, taking the best attributes of both world-famous parent strains: Northern Lights and Big Bud.
These plants are great producers yielding upwards of 450 g per square metre. They have a lightning fast flower period of just 5 to 6 weeks and the results are incredible.
The effect of the end product is long-lasting and relaxing but very light making it suitable for any number of medical applications.
The THC and CBD counts have yet to be determined but based on reports from users in the medical community it functions in quite the same way as a 1:1 balanced medical strain.
These are great plants for indoor growing. They grow to a medium height and are suitable for all growing methods and setups including Sea of Green, Screen of Green and Deep Water Culture.
They perform equally well in soil setups and only require standard lighting cycles to thrive and produce well. Basic cannabis nutrients and a steady flow of them, especially during flowering, will also help yield good results.
The tallest plants reach a height of 150 cm. Indoor plants do not usually grow beyond 100.
Outdoor plants grow a bit larger and will subsequently produce a bit more. All plants, indoor or out, produce consistently in proportion to their size. Harvest can begin late September and continue until there is significant fluctuation in daytime and nighttime temperature.
Those who are new to growing cannabis will appreciate how easy these seeds are to grow. They have a very reliable germination rate and are very forgiving on the beginning grower. Those with experience can push these plants even further and get even better yields.
Genetics:
Northern Lights x Big Bud