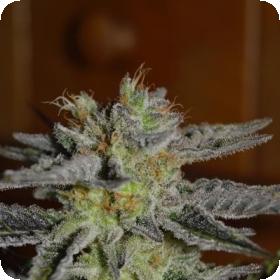 Double Black Feminised Seeds
Anyone familiar with Black Domina already knows what to expect here. G13 Labs has taken this iconic strain, bred it in an easy-to-cultivate feminised form and re-branded it as Double Black.
This version is incredibly stable and the seeds have a nearly perfect germination rate.
The plants are hardy and the yields are exceptional at about 450 g per square metre. They grow to a short to medium height (100-150 cm) so they are a great choice for all kinds of indoor growing setups.
They aren't very branchy so they also work well in SoG and ScrOG setups. They are squat enough to grow in small spaces like closets and can produce even better with a little bit of experience on the part of the grower.
A typical flow of nutrients and basic light cycles will yield excellent results.
These plants also grow well outdoors. They are capable of thriving in a variety of climates and are resistant to moulds and fungi along with a host of pests that are common to cannabis.
They are also subtle owing to their size and mild, pleasurable aroma.
The flavour of this strain is sweet and the smoke is very smooth. That rich sweetness also shows up in the aroma and the effect is every bit as thick and heavy but also very soothing and relaxing.
This is not a strain for beginners but it is some of the best, most dank weed out there. The name really does say it all.
Don't miss out on the chance to experience one of the top strains of the late 1990s now available in this convenient and very stable feminised form. First-time and novice growers will be particularly
Genetics:
Black Domina 98 x Black Domina 98