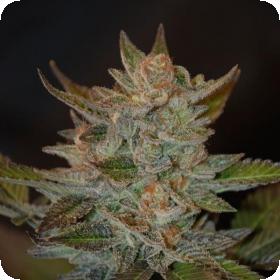 Dank doesn't even begin to describe it. Take a plant like Blue Moonshine (which is an amazing strain all by itself) and grace it with a strain like OG Kush. The result? It's every bit as good as you're thinking and then some.
For starters, this strain is an indica-dominant hybrid. The Blue Moonshine adds a great deal of punch to the effect and it is balanced well with the hybrid qualities of the OG Kush.
This one has real potential to leave most users couched. How couched? The THC content is very high and can be easily compared to some of the world's most potent strains.
It is also a multi-award winning strain that has been building a reputation of its own for some time. Now it can be experienced by growers and enthusiasts the world over in a super-stable feminised seed from.
Indoor plants grow to a short-to-medium height and produce yields upwards of 450 g per square metre. They are compact enough to thrive even in small growing spaces and they take well to all popular grow methods, both soil or hydro.
They are particularly suited to Sea of Green and Screen of Green setups. Many growers swear by these methods for top quality. Flowering time is approximately 8 weeks.
Outdoor plants don't grow much taller than indoor ones and the yields are comparable. These are also very adaptable plants that grow well in a variety of climates.
They will grow well outdoors in most parts of the northern hemisphere. Outdoor harvest can commence by 1st October and can continue until outdoor temperatures dip below freezing at night. They will still stand up to cold but should be brought in before threat of frost.