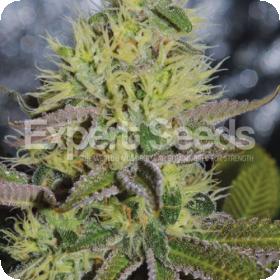 Sweet Zombie Feminised Seeds
This strain is indica dominant and produces an amazing yield with a potent effect. This strain is a combination of Zombie Virus and Black Domina, resulting in a beautifully colourful strain.
The plants will change from orange to purple and even to black as they mature. The THC level can be as high as 23%, so it is not the best strain for novice smokers. There is a reason it is called Zombie.
The flavour is strong and hash-like with a sweet after-taste. The effect is extremely relaxing a dis fantastic for those suffering from extreme pain. 
Sweet Zombie is a feminised strain and will only grow into female plants. Feminised seeds are ideal for growers who don't want to breed their own crops. For these growers the male plants are not only useless but can actually damage the females during the flowering period.
This in turn means that they have to be removed. Since around half of a regular crop is male this is a massive waste of time and money. Feminised seeds also tend to produce higher quality plants than regular seeds.
For this reason some breeders also prefer to use them, even though feminised breeding is extremely difficult. This strain is also photo-period and will require a light cycle in order to flower. 
This strain has a flowering time of 49 – 56 days and can be grown indoors or outdoors. 
Remember that the cultivation of cannabis seeds is illegal in some countries; please check the laws of your country  before attempting to cultivate cannabis seeds.