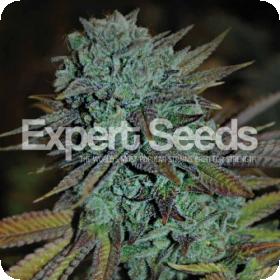 Expert Gorilla Feminised Seeds
Gorilla Glue #4 is an incredibly potent cannabis strain that, because of accidental pollination, had a serendipitous beginning.
The genetic constituent parts of Gorilla Glue are derived from marijuana plants from Chem Sis, Chocolate Diesel and Sour Dubb and are 75 percent sativa.
This strain can be cultivated outdoors and indoors. Indoor growers should be able to harvest approximately 400 gr/m2 during a flowering period of 58 - 63 days.
Each plant has the potential to produce as much as 700 g when cultivated outdoors. With harvests in the northern hemisphere taking place in late September.
This is a comparatively early outdoor maturation, which means that the cultivation zone is quite broad, covering those areas until at least this date where local weather conditions remain good.
Vegetative development is extremely vigorous and is prone to turning hermaphrodite as a result of its accidental beginnings, so it is recommended to keep a close watch on it during flowering to remove any male pollen sacs that risk pollinating the female flowers.
Buds are very dense and fat and are literally stuffed with resin-exuding trichomes.
This strain is not called "Glue" for nothing, as the quantity of resin produced will stick together the blades of manicuring scissors.
Gorilla Glue #4 has a distinctly pine aroma and a chocolate and diesel/fuel flavour.
It is an incredibly potent plant with THC production up to about 24 percent; it is a great medicinal strain to physically relax and has applications for pain, anxiety and insomnia relief.
Genetics:
Chem Sis x Chocolate Diesel x Sour Dubb