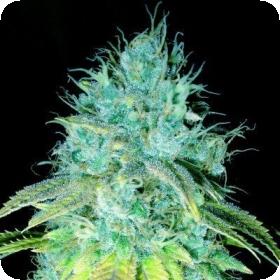 Sour Puss Feminised Seeds
Sour Puss is a combination of three wonderful strains, California Sour, Critical and Lemon OG. The result is an amazing, sativa dominant strain that combines the amazing yield of Critical with the amazing taste of the Sour and the Lemon.
This strain is absolutely ideal for a SCROG system but will grow well in most environments. It requires a slightly longer flowering time, due to its being 70% Sativa, but is definitely worth the wait.
This strain is feminised which means it will only grow into female plants. Most growers prefer feminised strains because they make growing a lot easier. The males would usually take up around half of a regular crop, and are pretty useless.
This means that they would have to be removed which is a huge waste of time, money and effort.
Feminised plants will often have a higher level of quality and uniformity than regular seeds. Because of this, a lot of experienced breeders prefer to use feminised seeds. However, breeding with two female plants can be much more difficult than regular breeding.
This strain will grow well indoor and outdoors, it should be harvested in late October.
Keep in mind that the cultivation of cannabis is illegal in several countries. Please check the laws of your country before attempting to grow cannabis seeds.
Genetics:
California Sour x Lemon OG x Critical