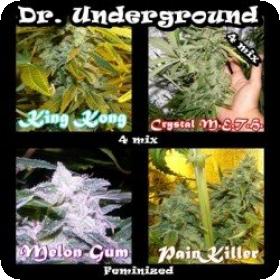 Surprise Killer Mix Feminised Seeds
Surprise Killer Mix is a fantastic assortment of seeds from Dr. Underground. In the mix of 4 is 1 Crystal METH, 1 Melon Gum, 1 Painkiller, 1 King Kong. The mix of 8 contains 2 Crystal METH, 2 Melon Gum, 2 Painkillers and 2 King Kong.
These seeds are all mixed together and unlabelled, great for growers who like to put a bit of variety into their garden.
This mix is feminised and will only grow into female plants. It is also photo period and will require a light cycle in order to flower. Feminised seeds are perfect for growers who don't plan on breeding their own crops.
For these growers the male plants are a pain as well as being a danger to the females, which means they have to be removed. Since around half of a regular crop is male, this is a huge waste of time and money.
Feminised seeds also tend to be higher in quality and uniformity than regular seeds. For this reason some breeders also use them, even though feminised breeding is difficult. 
These strains can all be grown indoors or outdoors and will have varying flowering times. 
Remember that the cultivation of cannabis seeds is illegal in some countries, please check the laws of your country before attempting to cultivate cannabis seeds.