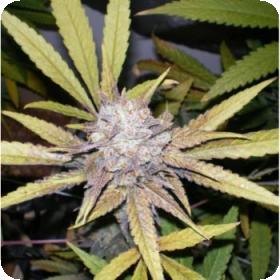 Melon Gum Feminised Seeds
Melon Gum is a delicious, high yielding strain that is stunning to look at. Since this strain is a cross between Lavender and Bubblegum its colours range from blue to red and through to black. The effects are intense and the flavour is absolutely mouth watering.
The buds are extremely hard and dense, as well as totally coated in sparkling resin. This strain does produce a pretty strong scent and should be well ventilated if grown indoors. Melon Gum is a truly unique strain that deserves pride of place in any garden.
This strain is feminised and will only grow into female plants. Feminised seeds are great for growers who don't plan on breeding their own crops. For these growers the male plants are a nuisance as well as being capable of harming the females during flowering.
For this reason they have to be removed, which is a huge waste of time, money and energy. Feminised seeds also tend to be higher in quality and uniformity than regular seeds. Some breeders even prefer to use them, despite the fact that feminised breeding is super difficult. 
This strain has a flowering time of 7 – 8 weeks and can be grown indoors and outdoors. 
Remember that the cultivation of cannabis seeds is illegal in some countries, please check the laws of your country before attempting to cultivate cannabis seeds.